Distance Learning CME in Streaming and External Formats
eetings By Mail - Online CME and DVD Courses
Meetings By Mail partners with prominent medical educators to produce exceptional enduring material CME on demand. We currently stream over 500 accredited hours of: Radiology CME, Cardiology CME, Surgery CME, Nuclear Medicine CME and much more. Meet continuing education requirements, stay current and maintain certification, without taking time away from your practice!
CATEGORIES
CME SPOTLIGHT
WORLD CLASS CONTENT PARTNERS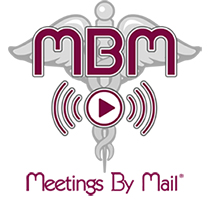 For over 25 years, Meetings by Mail has provided the highest quality CME content to thousands of physicians around the world. We pioneered the Virtual Symposia model in 1993, and constantly evolve with the available media options to display our activities in the most efficient and effective formats. Our content partners include Cleveland Clinic, Penn Radiology, SABI, SRU, SVU, SNMMI Chapters and many more. Try an activity and see why we are an industry leader in Distance Learning CME.